Background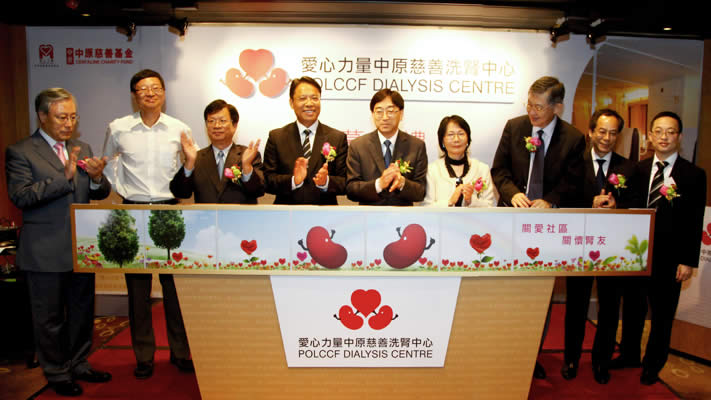 On November 9, 2012, the Honourable Dr. Ko Wing-man, the Secretary of Food and Health of HKSAR (centre) presided over the opening ceremony of POLCCF Dialysis Centre. It was our honour to have numerous celebrities as our honourable sponsors and advisors, including Mr. Cheng Yiu-tong, member of the Executive Council (third from the left) and Mr. Shih Wing-ching, the founder of Centaline Property Agency, (third from the right). They provide professional advice for the Centre's medical services, legal affairs, finance as well as operation, so that our Centre would develop as one of the professional haemodialysis centres in Hong Kong.
POLCCF Dialysis Centre is a non-profit haemodialysis centre founded by "Power of Love" and "Centaline Charity Fund" in August, 2012. The Centre is a charitable organisation recognised by the Hong Kong Inland Revenue Department.

Due to the increase in the number of renal patients requiring haemodialysis, only 20% of the patients could be provided with subsidised haemodialysis by the Hospital Authority. In order to reduce the financial burden on those patients requiring long-term haemodialysis services, POLCCF Dialysis Centre provides such services at a low and reasonable cost so that more can enjoy haemodialysis services.

"Power of Love" is a non-profit charitable organisation established in Hong Kong in 1998. Its vision is to care and assist the disadvantaged sectors of the society, including the elderly, the low-income families and patients suffering from chronic diseases. Furthermore, the organisation is devoted to improving the education environment of the remote areas of China, so that the children there have the opportunity to enjoy basic education.

"Power of Love" has already established 85 elementary schools in various provinces and autonomous regions in China, such as Inner Mongolia, Henan, Guizhou, Guangxi, Qinghai, Hunan, Hubei, Gansu and Guangdong, aiding tens of thousands of children in those remote areas. The organisation has also initiated a subsidy plan to assist the disadvantaged students, so that they can continue their studies even when their families are suffering from financial burdens.
Centaline Charity Fund Limited "Centaline Charity Fund Limited" was established on October 13, 2004 according to the laws of Hong Kong. It is a registered non-profit charity, funded mainly by the related companies of the "Centaline Group". The Fund allocates resources to projects relating to helping the poor and enhancing the education system with a view to achieving the following goals:
Providing financial aids for the disadvantaged community in Hong Kong and China to assist them in overcoming challenges and improving their lives.




Helping the adolescents in Hong Kong and China to develop their potentials by promoting, supporting and developing educational activities.